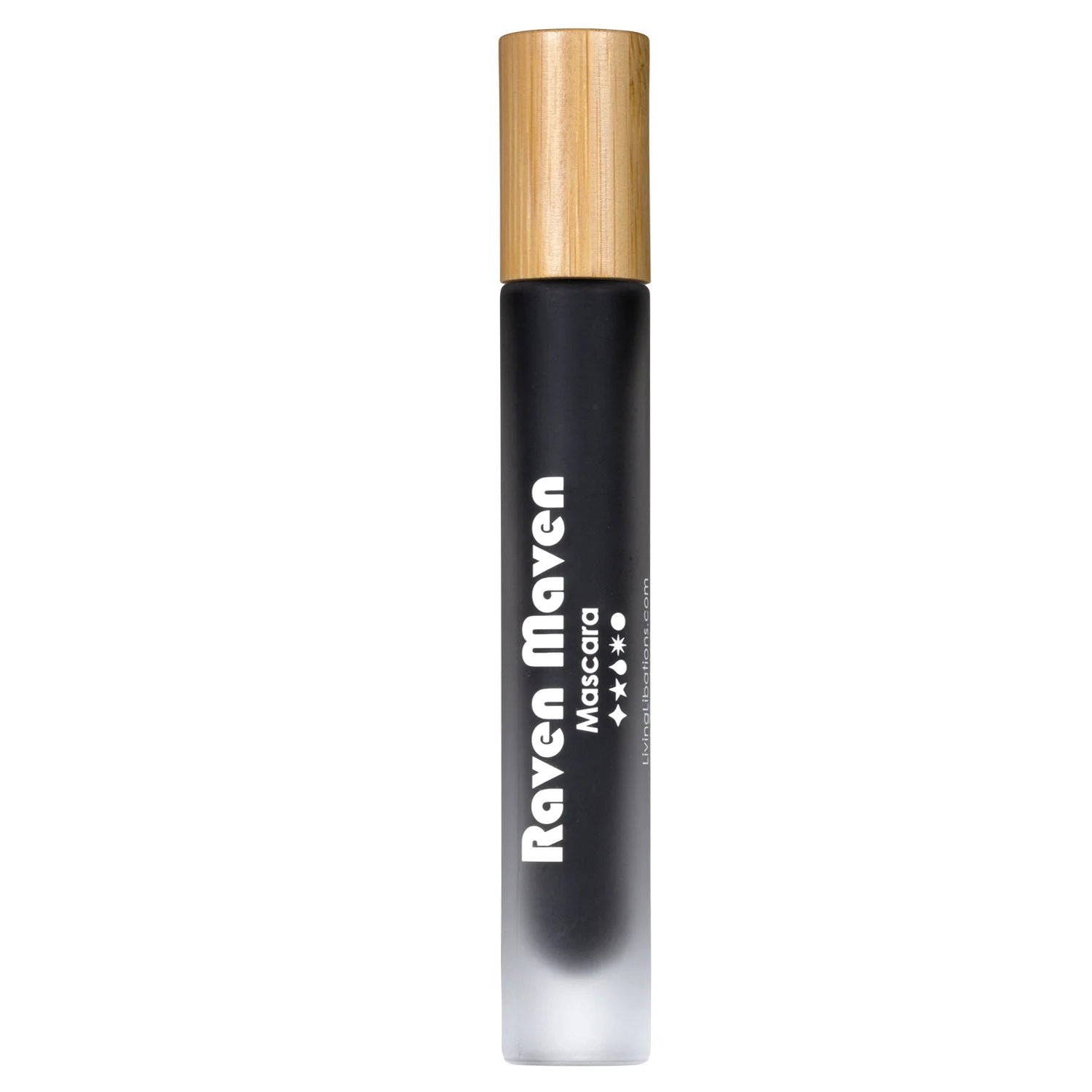 Water

Filtered, deionized water is the non-allergenic fluid foundation that keeps all of the ingredients properly swished and swirled together.

Iron Oxide Black

This naturally occurring mineral provides the non-irritating, perfectly-pitched, pure pigment to our mascara for the most naturally tinted lashes.

Typically, carbon black is used to pigment cosmetics, and it is produced in the combustion of carbon products like tar. It is reportedly linked to incidence of organ and endocrine disruption.

Beeswax

This wonderful wax is such a special gift from the hives of healthy bees, giving vital viscosity to our lusciously thick mascara, so it coats, lifts, and protects lashes.

Beeswax replaces paraffin, polyethylene, vegan soy wax, or a synthetic wax.

Carnauba Wax (Copernicia cerifera)

This breezy Brazilian palm tree lends its leaf wax to our formula for lavish lash-lengthening body with a nice, soft gloss. It also adds emollience for smooth, moisturized eye lashes.

Carnauba wax replaces polymers, paraffin, polyethylene, and synthetic waxes.

Bayberry Fruit Wax (Myrica cerifera)

This silky wax is water extracted from organically grown berries of the Southern Bayberry Myrtle. It contributes to the creamy, rich texture of the mascara and gives the lashes a lustrous coat of a porous, protective plant layer.

Film-forming polymers, such as acrylates copolymer, ammonium methacrylate, polyvinylpyrrolidone, and polyethylene, derived from petroleum, are commonly used in lieu of Bayberry Fruit Wax.

Methyl Hydrogenated Rosinate

Conifer sap resin is steam purified and combined with hydrogen to create a shelf-stable liquid that helps the mascara stay coated on your lashes while adding a dash of gloss. 

Polyvinylpyrrolidone is typically used in this role as a fixative in mascara. It is a synthetic ingredient derived from petroleum. 

Frankincense Resin (Boswellia carterii)

Inspired by Frankincense used as the ingredient of an early cosmetic — ancient Egyptian Kohl — this fragrant and flawless extract furnishes soothing, smoothing properties to our formula. This radiant resin is key to our formula's tenacity and texture.

In synthetic mascaras one will often find shellac on the ingredient list instead. Shellac is made from the exudate of the lac insect. The exudate is then bleached or decolorized to make it cosmetic grade.

Stearic Acid

This magnificent multi-tasker is a natural, plant-based long chain fatty acid that stabilizes the solution and makes the mascara silky smooth.

Triethanolamine (TEA) is frequently used in lieu of stearic acid, for the long chain fatty acid. It is created in a reaction of ammonia with ethylene oxide from the petroleum industry.

Propanediol

Plant-derived propanediol is a trusty texturizer and non-irritating fluid that assists in keeping the ingredients wet and well blended.

Typically, polyethylene glycol (PEG) is used in this role as a wetting agent, and it can trigger allergies and irritations. A vast number of people (maybe as high as 72%), have developed anti-PEG antibodies that can cause hypersensitivity reactions when exposed.

Glyceryl Stearate

This plant-based emulsifier, conditioner, and body builder is created in a process super similar to DIY soap making. This process produces magnificent molecules that are both water and fat soluble, which helps to keep our mascara ingredients all mixed together. 

Triethanolamine plays a similar role here in replacing stearic acid, and is also frequently used in lieu of glyceryl stearate. 

Arginine

A lash-care essential! Arginine is an essential amino acid for building keratin, a fibrous protein that structures and protects hair. It also moisturizes each lash to keep them long and strong.

Pullulan (Aureobasidium pullulans)

This mighty microorganism produces this edible cellulose that acts and feels similar to gelatin. Pullulan helps our mascara lavish each lash with a sheen that stays all day yet magically washes away with water.

Typically, plastic or nylon reinforced cellulose are in mascara used to create the gel-like feel in mascara. Both plastic and nylon are made from petroleum.

Pentylene Glycol

This sustainably produced, plant derived organic alcohol works synergistically with organic Rosemary Leaf Extract to preserve and protect our mascara from mutant microbes. It is also a silky humectant that protects lashes from drying out.

Pentylene glycol replaces polyethylene glycol (PEG), which functions in many types of mascara as a humectant and preservative. A vast number of people (maybe as high as 72%) have developed anti-PEG antibodies which can lead to hypersensitivity reactions when exposed.

Kaolin

Silica rich Kaolin clay is an ancient haircare preparation that imparts opulent density to our finished formula.

Typically, polymer opacifiers are used instead to thicken and make the formula opaque. Synthetic polymers may be irritating and inflammatory.

Caprylyl Glycol

Soft, flexible lashes are less apt to break, and this moisture magnifier keeps your lashes lush and long. Caprylyl glycol is a non-irritating, non-drying alcohol derived from the caprylic fatty acid found in coconut oil.

Xanthum Gum

Widely used in the organic food industry and a pantry staple for gluten free baking, this gel is a natural exudate of Xanthomonas campestris. It is an excellent thickener!

We used Xantham Gum instead of hydroxyethylcellulose, which is a synthetic polymer that is made using 1,4 dioxane, a substance that can contribute to some cancers. 

Cacao Butter (Theobroma cacao)

Expeller-pressed from raw cacao beans, velvety cacao butter delivers antioxidants and conditioning to keep lashes nourished from follicle to tip.

Sorbitan sesquioleate is commonly used in mascara for added moisture, and it is increasingly considered an irritant.

Sodium Phytate

This simple salt of phytic acid derived from plant tissues acts as an all-natural super stabilizer for our ebonizing pigments so that our mascara looks and feels the same, day after day.

Sodium phytate replaces sodium EDTA to manage the minerals in the mascara. Sodium EDTA may cause redness and rashes to those with sensitive eyes and skin.

Glycerin

Lash-plumping and moisture-maintaining Glycerin acts as a water-binding humectant in our formula. This pure, non-GMO glycerin is made from palm oil extracted from Elaeis guineensis trees grown sustainably and ethically harvested in the tropics.

Glycerin is best avoided for skin care as it can lead in the long term to water loss and imbalanced skin cells, yet a bit of Glycerin when combined with other moisturizers and humectants is benign in mascara. Glycerin is safe for eye lashes because hair is made of non-living cells.

Pea Peptides (Pisum Sativum)

This pea peptide is a plant protein multi-tasker concentrated in lysine. It hydrates, strengthens, and fortifies lusher lash density overtime. The texture of the peptide also pumps up voluminous volume for thick, long lashes.

Our peptide is lavishly laced with radish root filtrate that has been fermented with Leuconostoc, the same lactic acid bacteria that is used to make kimchi and sourdough bread. This pale-yellow liquid is a natural bacteria-balancer, and its moisturizing properties make it superbly smoothing and conditioning to the lashes and follicles.

Rosemary Leaf Extract (Rosmarinus officinalis)

This steadfast and super potent supercritical extract is a favorite of ours, acting as a replenishing tonic for lashes, roots, and follicles and keeps the mascara fragrant and fresh.

Typically, butylparaben, ethylparaben, and propylparaben are used as preservatives, and they are known endocrine disruptors. Imidazolidinyl urea may also be found on mascara ingredient lists as an antimicrobial, and it is a formaldehyde releaser.

1,2-Hexanediol

Though synthetic, it has been heavily tested to be harmless, 1,2-Hexandediol only differs molecularly from Caprylyl Glycol in that it has six carbons in the carbon chain while Caprylyl Glycol has eight. 1,2-Hexandediol is both water and lipid loving, and thus it helps hold the ingredients together and disperse pigments more evenly.

Tropolone

This conditioning agent helps to keep our mascara flake-free, and acts as a clean beauty preservative. When combined with 1,2-Hexanediol and Caprylyl Glycol, Tropolone provides essential full-spectrum microbe-management to protect the mascara from contamination after every application.

While this compound is synthesized, Tropolone is skin safe and also occurs in plants, especially in the Cypress and Lily families, and essential oils are good sources of Tropolone derivatives.