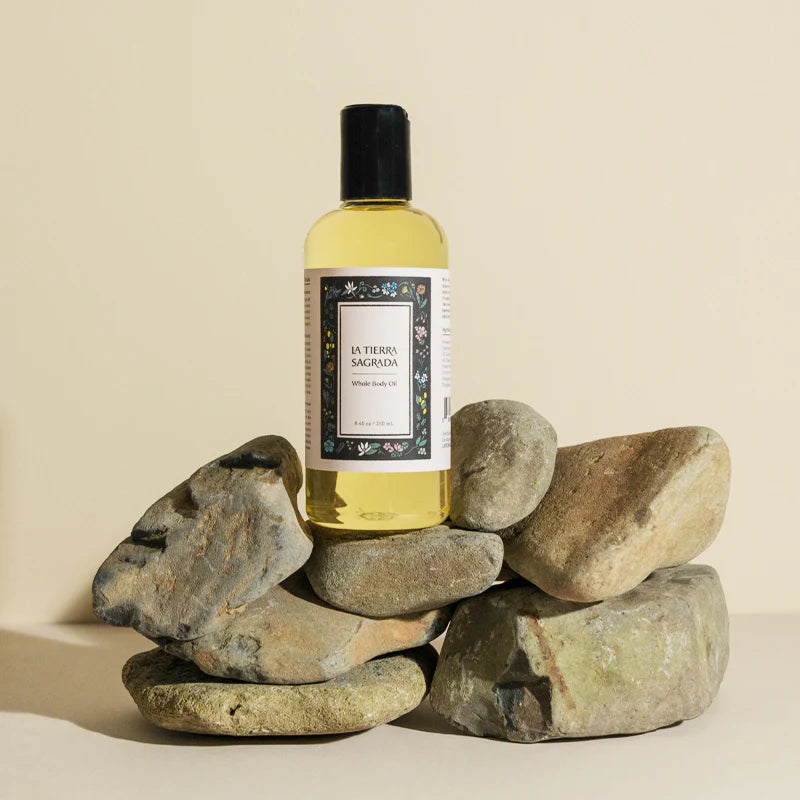 INGREDIENTS:
Apricot Oil- Anti inflammatory oil that moisturizes dry, sensitive skin and smooths out blemishes, wrinkles and fine lines. It helps to maintain the softness, suppleness, and radiance of skin. Rich in Vitamin A, which helps combat bacteria and Linoleic Acid that hydrates and strengthens delicate and dehydrated skin.
Jojoba Oil- Contains vitamin A, known as the "skin healer", this oil helps to soothe dryness and improves skin elasticity. Jojoba contains antimicrobial and anti fungal properties. Similar to the oil (sebum) your body naturally produces, this makes it less likely to build up on your skin and clog pores. Its anti-inflammatory and healing properties may help relieve dryness, flaking, itching, and related symptoms.
Sunflower Seed Oil- Packed with vitamins and nutrients, this oil boasts regenerating, restructuring, and deeply moisturizing properties for the skin. Anti inflammatory, highly absorbent, and won't clog pores. It's non-irritating for most people, and can be used on all types of skin, including dry, normal, oily, and acne-prone. Rich in linoleic acid, which is a fatty acid that's good for limiting water loss, so it's good for the skin barrier.
Safflower Seed Oil- A natural anti-fungal, antimicrobial and anti inflammatory oil that helps to soothe the skin, giving a soft and smooth appearance due to its Vitamin E content. Made up of 70% linoleic acid, which helps the skin retain moisture It Fights Acne and Inflammation, It Helps Protect Against UV Rays, It Promotes Cell Turnover. Gives the skin that "youthful glow". Apart from strengthening the skin barrier, it also provides moisture and plumpness. It's moisturizing properties help improve skin texture, calm irritations, and may help minimize signs of aging.
Chamomile Flower Extract- A calming flower extract that boasts anti-inflammatory and antioxidant properties. It can help soothe the skin and may help relieve some skin irritations. Soothes sensitive skin and relieves inflammation. Chamomile contains anti fungal, antibacterial, antiseptic, and antioxidant properties. All of these properties work together to revitalize and improve the health of the skin. Chamomile promotes a healthy glow by healing and restoring the skin's natural moisture content.
Calendula Extract- An earthy floral scent that can help moisturize and hydrate dry skin. Calendula oil has anti fungal, anti-inflammatory, and antibacterial properties that might make it useful in healing wounds, soothing eczema, and relieving diaper rash. Nourishing benefits of calendula help to plump the surface of your skin to give you tighter, more supple skin. In the long term, both the anti-inflammatory and antioxidant properties help to protect your skin's collagen and elastin supply.
Neroli Flower Oil- A sweet and citrusy blossom scent that may provide a gentle stimulation for your skin cells, encouraging regeneration and working towards limiting stretch marks. It also may reduce some fine lines due to its hydrating properties.
Geranium Oil- This sweet, uplifting floral scent can help promote relaxation and is used to aid in encouraging good circulation It is an astringent, and may help tighten skin, which reduces the appearance of fine lines.
Vitamin E- Used as a natural preservative, this ingredient may also help protect the skin from UV. It boasts moisturizing and soothing properties. Known as an antioxidant, this oil can help your skin fight oxidative stress caused by everyday exposure to pollutants and other toxins.